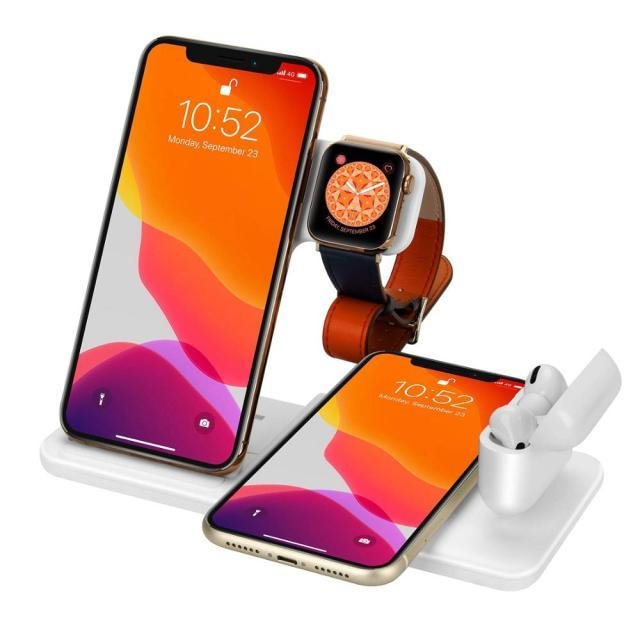 The Ultimate Multi-Device Wireless Charging Station!

 Transform your desk into that neat and clean workspace you always desired! 
⚡ Wireless Charging Smart Station Dock makes charging your devices simple and modern. Streamline the charging process and forget about pesky cables! ⚡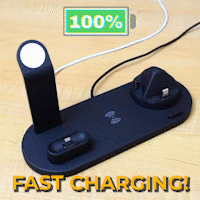 - Charge all your devices at once
- Charging is not affected by phone case
- Qi-Certified Fast Charge technology®

Next-gen wireless fast charging for Smartphones, Apple Watches, AirPods, and other Qi-enabled devices.
✅ START YOUR DAY FULLY CHARGED: This high-performance 4-in-1 phone charging dock station will ensure lightning fast-charging up to 4 of your devices or gadgets; whether they're an iPhone, iPad, Samsung, LG, HTC, Huawei, or Sony.
✅ TAKE THE FUSS OUT OF CHARGING YOUR GADGETS: All you need to do is Install the original iWatch charger into the stand, as the other connectors are build-in. So all you need to do is just plug it in and start charging.
✅ FULLY CHARGE YOUR DEVICES IN STYLE: Our charging docks use the most advanced automatic control technology. This allows for fast and easy charging for all of your devices every single time.
✅ SAVE MONEY ON YOUR CABLES & CHARGERS: The multifunctional charging stand with iPhone/Micro/Type-C interfaces can charge almost all mobile devices, meaning you don't have to fuss with cheap aftermarket charging cables, and you save money in the long run!
✅ DECLUTTER & ADD STYLE TO YOUR DESKTOP: We use only top-shelf materials when making our charging docks. This includes using high-efficiency components and advanced chipsets, to improve charging and protect your devices. While the matte finish makes it a great accessory for your office desktop, home desk, or nightstand.