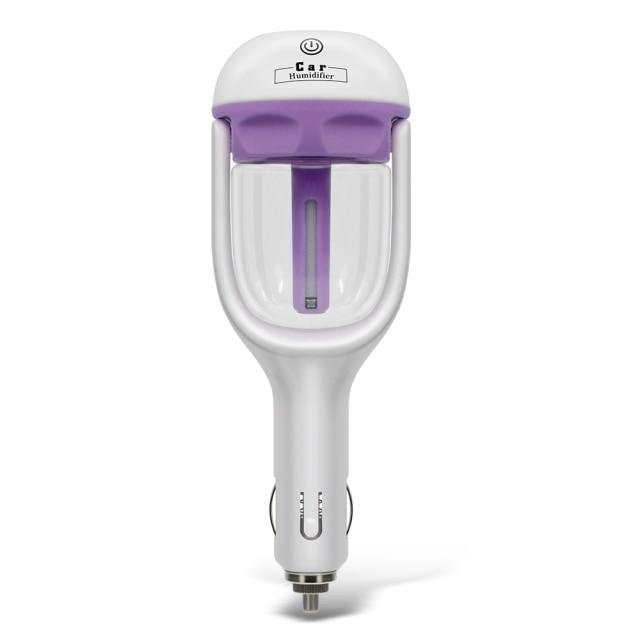 12V Car Steam Humidifier Air Purifier Aroma Diffuser Essential oil diffuser Aromatherapy Mist Maker Fogger A-A100
The air in car is very dry, if the air in your car is drying out your throat, nasal passages, and skin, a humidifier can make a big difference. Humidifiers are particularly helpful in the car when the air naturally holds less moisture, but they can be used when you are driving. ​​
Let the Mini Car Humidifier and Aromatherapy Diffuser help you to lift your mood, relieve tension & anxiety, and boost the metabolism using your favorite fragrances!
FEATURES AND BENEFITS:
💠 Works both as an Air Humidifier & Aroma Diffuser
Emits a cold mist in the Advanced Ultrasonic Mist Technology
Refreshes & Moisturizes the quality of the air you breathe on the road.
Removes dryness, helps dry skin, lips, sinuses, & coughs.
50 ml capacity
Easy-touch switch
Humidifying mist
Soothing aromatherapy support
1. Purified water is highly recommended as unfiltered water would block the vaporizer
2. Water soluble essential oil are preferabe.Please DO NOT use greasy aroma oils
3. You might need to wait 3-5 mins to get the frog when you use the item in the first time. You need to wet the cotton sponge first, if not, car diffuser can not work properly.
1x Car Aromatherapy Humidifier
1x Sponge (Spare part)
1x User Manual
Showcase
Soothing mist
Color options
Aromatherapy
50 ml capacity
180° misting rotation
Humidifier
Easy-touch switch
Eco-friendly materials
Fresh, clean air in your cabin