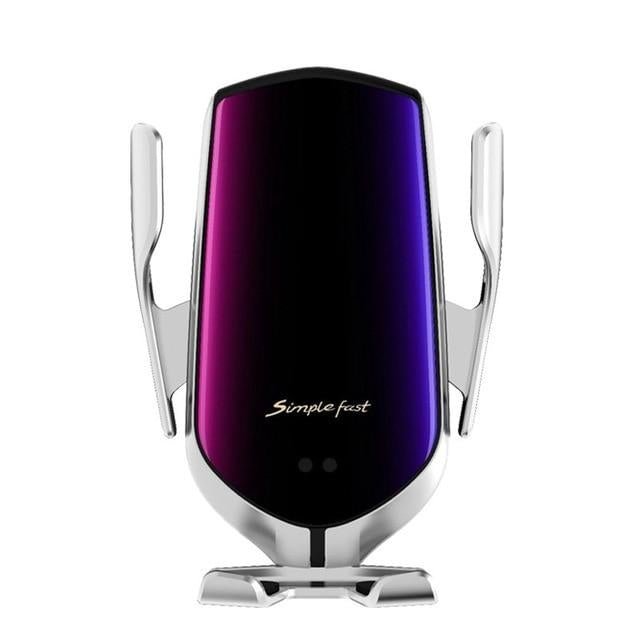 Make every drive exceptional with our Automatic Wireless Car Phone Holder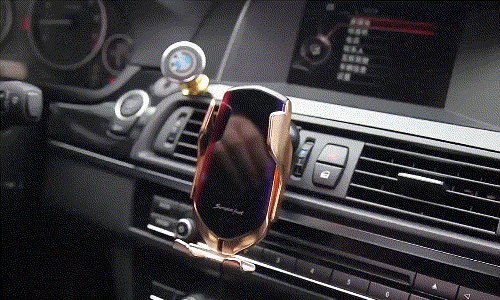 Tired of trying to hold your phone while driving and want a safe solution?
Is your phone always low on battery and you have to fumble around for a charger?
Does your current phone mount blocks the view of the road?
Say hello to the Automatic Clamping Wireless Car Charger, the solution to all of your driving problems.
Our Automatic Clamping Wireless Car Charger will dramatically change the way you drive. To mention a few features, our intelligent phone holder incorporates automated sensor clamps, quick wireless charging, and 360-degree mobility. Extremely safe and reliable.
Make every drive exceptional with wireless charging and secure holding. Enjoy driving with ease; GPS, travel, taking calls, listening to music/ podcasts, all within the safety and secureness of a clear field of view.
⚡ A cell phone holder for cars unlike any other ⚡
⚡ The Ultimate All in One Car Phone Holder ⚡ 
SMART AUTOMATIC CLAMPING


Built-in and equipped wireless automatic infrared sensors. Automatic opening and closing smooth clamps are sensed when your device is put in front of the car phone mount.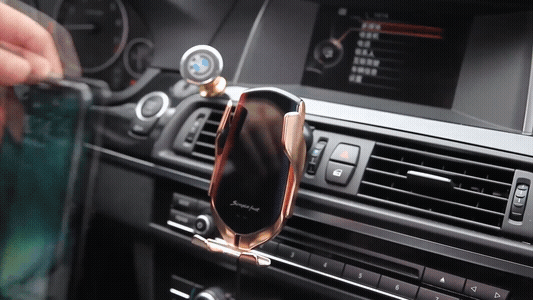 FAST WIRELESS CHARGING
Wireless 10W lightning-fast charging ⚡ Provides faster charging than almost all of the wireless car charger phone mounts on the market.

 With a 4th generation integrated coil and comprehensive security control chip - it features temperature control, overcurrent protection, and short circuit protection.
MAXIMUM STABILITY
We believe strong and secure stability is key for a cell phone holder for cars. We know how much you pay for your phone and made sure your investment is protected to the maximum. Even on the worst roads - if your car shakes violently such as in a state of sudden braking, bumpy roads, off-road, or emergency acceleration - your phone will stay secure and not fall thanks to the ultra-secure clamping and back knob/ dashboard phone mount suction holder.
FULL 360 DEGREE ROTATION
Adjustable swivel ball for full 360-degree rotation. We made it rotatable for easy access and safer driving. Now you won't ever have to be distracted by trying to reach in your pocket, hold your phone while driving, or fumbling around to find your phone. Our car phone mount takes care of all of it for you.
ULTRA HIGH-GRADE MATERIAL
Double curved design, anti-scratch, and non-slip silicone base padding for ultra-secure and safe grip car phone holder wireless car charger.
AIR VENT MOUNT & DASHBOARD SUCTION MOUNT
It can be attached to almost any size and shape air vent. The most versatile cell phone holder for cars. The dashboard suction mount is an addition to the air vent mount - the most secure dashboard phone mount.
ONE-HANDED OPERATION
You can have one hand convenient operation. Just place your phone in the car phone holder and watch it securely hug your device.
How To Use:
Mount the phone holder on your vehicle's air vent.
Place your phone in front of the phone holder and the sensors will detect your phone and open the clamps.
Place your phone in the holder and the sensors will trigger the clamps to securely hug your phone.
Adjust the angle to your liking and have an exceptional drive.
Includes:
1 x Automatic Clamping Wireless Charging Car Phone Holder
1 x USB Cable
1 x User Manual