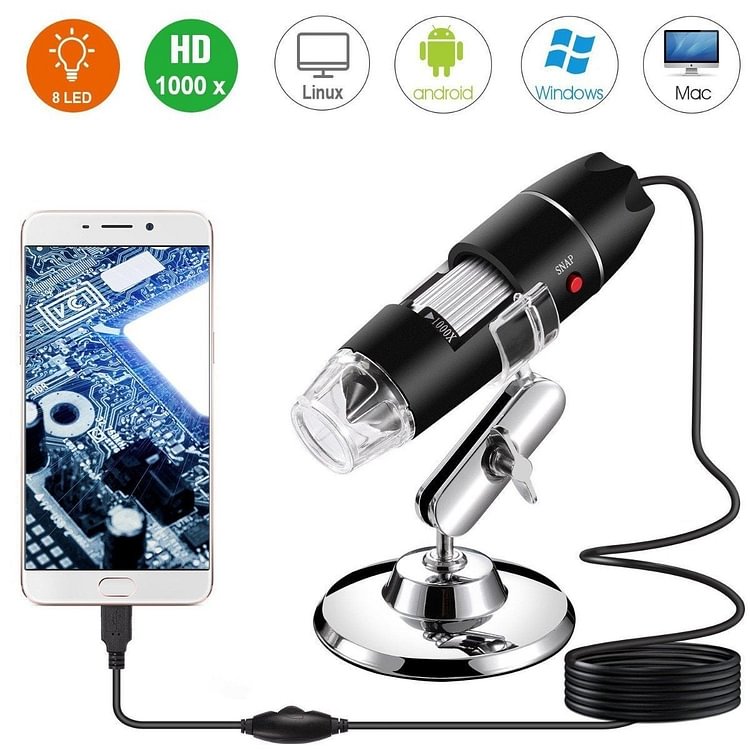 Discover The World In A Whole New Way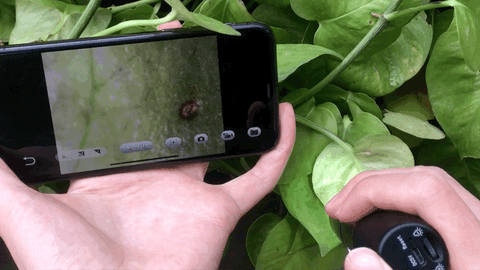 Now, you can get up close and personal like never before, using this USB microscope camera. Including 1000x Zoom, high-power, and mobility, you can get a clear look at any object, including living things, integrated circuit boards, leaves, skin, rocks, or whatever captivates your imagination. Observe every aspect of your subject. Even the smallest of details will be clearly visible, and you can see it, with your own eyes, right on your computer screen!
Record and Take Photos
Adjustable 1000x Zoom
Works With PC & Mac Products
8 LED Lights With Dimming Option
USB Powered
The USB Digital Microscope is compatible with PC/MAC or laptop, to make viewing easy. Easy to use, simply plug it into your device and play. Featuring 8 high-quality, LED lights, this microscope provides an incredibly clear view of a previously invisible universe. The USB Digital Microscope is perfect for kids, students, inventors, engineers, and anyone else who enjoys magnifying and inspecting microscopic objects. You can even capture screenshots.

Features:
Magnifies up to 1000x the original size!
8 LED lights provide excellent lighting to your subject.
Connects to your PC/MAC or laptop, so that you can view subjects directly on your screen.
Uses a dynamic image sensor to capture details invisible to the naked eye.
Experience the thrill of examining and discovering a whole new microscopic world with the Digital Handheld Microscope With USB Camera. It's used by millions worldwide for textile inspection, jewelry & stamp collection recognition, computer chip design & repair, scientific observation and research, industrial inspection, and more!
FEATURE(S):
SHARP & ULTRA-CLEAR IMAGE:

This modern microscope is engineered with the latest image processing technology and dynamic sensors for producing crisp, high-resolution images.

REAL-TIME IMAGE ON YOUR SCREEN:

You can easily connect your phone or computer to the microscope and get real-time images of the magnified objects on your screen. The microscope is compatible with your favorite devices, including iOS, Android, Windows, Mac, or Linux.

BUILT-IN PHOTO & VIDEO CAMERA:

The microscope has a built-in camera for capturing photos and videos of the inspected objects. It's great for recording & documenting your work or just show off your discoveries to your friends.

8 ULTRA-BRIGHT LED LIGHTS:

The microscope is equipped with 8 LED lights so that you can illuminate the examined object and get an ultra-clear image. You can also adjust the brightness as needed - you won't have to worry about shadows or dark settings!

LIGHTWEIGHT & PORTABLE:

Unlike heavy traditional microscopes, this modern microscope is lightweight and portable so that you can easily take it with you wherever you go.
PACKAGE INCLUDE(S):
1 x

Digital Handheld Microscope With USB Camera

1 x Metal Stand

1 x Calibration Ruler