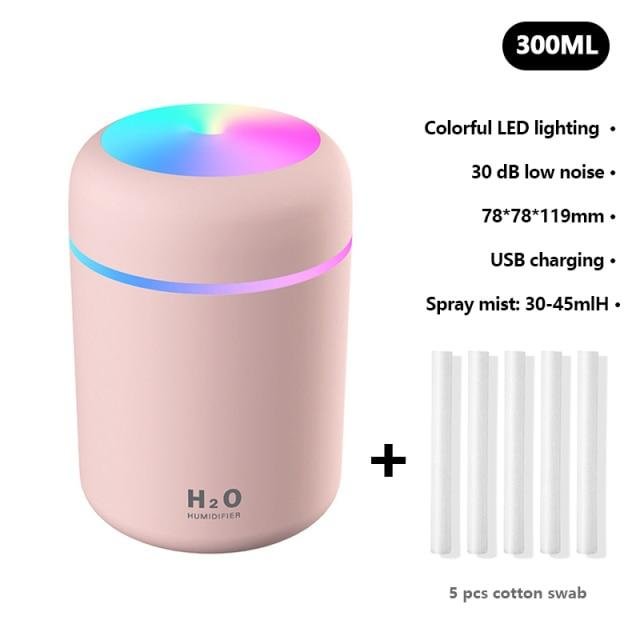 In minutes, add a soothing atmosphere to your home, car, or workplace. This mini humidifier hydrates and provides a cool mist to any space instantly combating the detrimental effects of a harsh, dry environment.
Use with water or combine with 1 drop of high-quality essential oils for an insanely pleasurable experience. It works as an electric car/home air refresher and humidifier.
Gain more energy, feel calm and rested with this Mini Humidifier and Air Purifier all in one!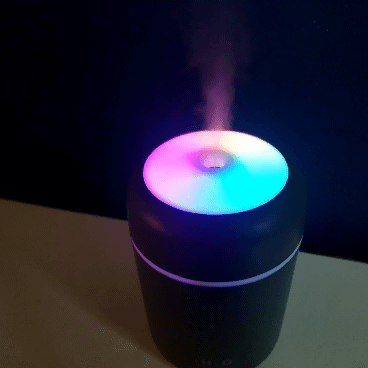 Product Features:
Removing Unpleasant Smells: Eliminates noxious odors such as cigarette smoke, animal smells, and other pollutants.
Portable:

 

The small and transportable design makes it simple to bring with you anywhere. The USB Power Supply is compatible with any device that has a USB port, allowing it to be used in the bedroom, bathroom, kitchen, dining room, at work, or in the car.
Quality Ultrasonic Operation:

 

Humidifiers with ultrasonic frequencies produce a near-silent 26dB frequency (softer than a library) for ultraslow operation. This humidifier won't keep you awake during the night or while you work. It can effectively moisturize dry skin and assist you in preventing skin peeling.
Colorful cycling light and Night light:

 

This cool mist humidifier features a colorful cycling light option that creates a calming atmosphere while also delivering a soothing mist. It can help you relax completely. The nightlight may aid in better sleeping.
Easy Operation: The portable USB humidifier is straightforward to use. All functions are controlled with a single button. To turn on the night light and color light, keep tapping the power button for 3 seconds.
Auto shut-off function: This humidifier includes two spray modes and an auto shut-off function. There are two mist modes: continuous and intermittent mode. It will automatically turn off after 4 hours on continual mode. It will automatically switch off after 6 hours on intermittent mode. When the water level is low, it turns off automatically. As a result, you don't have to be concerned about your humidifier being damaged if there isn't any water available. You may use it at night without the risk of injury.
Product Specifications:
Size: 78*78*119mm
Net weight: 106g

30 dB low noise

Spray volume: 30-45mLh
Shutdown timer: 4-6hrs
Nano mist, quiet and comfortable
Large water capacity up to 300ml

Premium Material: ABS+ silicone/electronic components 
Package includes:
A Mini Humidifier 
A fast USB Charging Wire
User Manual