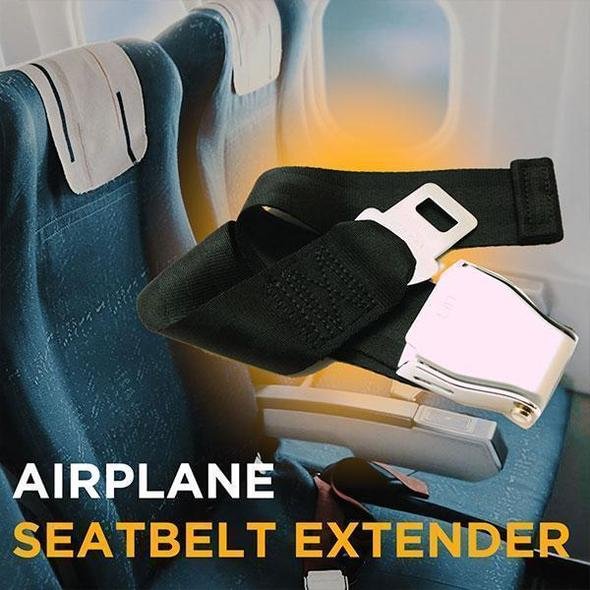 If the airline's seat belt is too short, the Adjustable Airplane Seatbelt Extender can help!
Most airlines use the same type of seat belts, and so the Airplane Seatbelt Extender works on the widest variety of domestic and international commercial airlines.
Having your own airline seat belt extension available helps to create a stress-free flying experience by allowing you to sit in your seat and buckle up safely so you can relax and enjoy the flight.
Features: 
WORKS WITH MOST MAJOR AIRLINES
The Airline Seat Belt Extension is an E4 Safety Certified commercial aircraft passenger restraint with a break strength that exceeds 3000lbs for your safety and security. 
CLICK 'N GO & ADJUSTABLE
Simply click in the seatbelt extender and adjust the belt to add between 7 to 24 inches of additional length to the existing seat belt system for a customized and comfortable fit - No further installation required!
PASSES TSA SECURITY IN CARRY-ON
Immediate comfort and safety, no more embarrassment asking for help from flight attendants.
E4 SAFETY CERTIFIED


It is the strongest, safest and most comfortable seat belt extension on the market. Excellent investment in peace of mind during travel!
Product details:
Length: 20-

80 cm (adjustable)
Weight: 0.2 kg
Package details:
Package Weight:

 

0.27 kg 

Package Size:

 

15 x 15 x 10 cm 
Package includes:

1 x Adjustable Airplane Seatbelt Extender