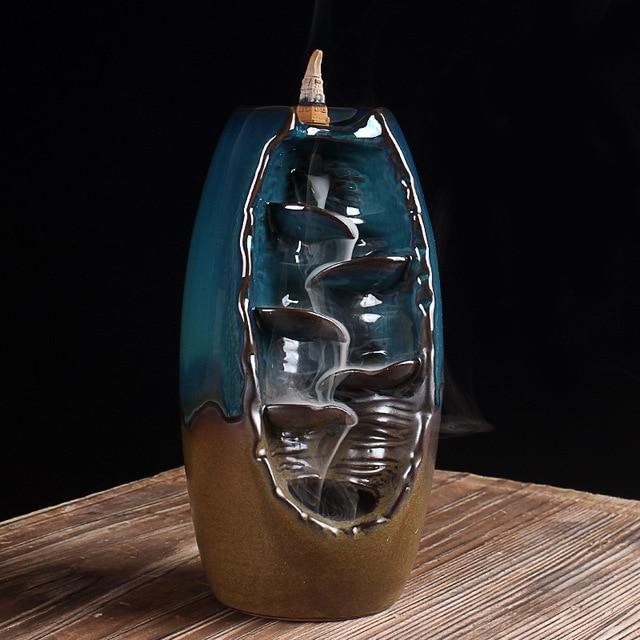 When the incense cone is lit, the trail of smoke mimics a waterfall flowing down a mountainside. This lovely, ceramic incense burner is ideal for burning your favorite incenses while providing a relaxing and decorative touch to any space. It's also a great gift for all meditation and yoga lovers.

Infuse your air with the vitality of nature and enhance your well being with handcrafted Backflow Waterfall Incense Holder. Smoky waterfall diffuse aroma that can dissipate negative energy, purifies the air and gives you relief from daily stress.
Handcrafted from ceramic
Comes with 10pcs fragrance cones
Relieve stress
Calm your nervous system
Reduce anxiety & panic attacks
Support adrenals
Our Guarantee
Free Worldwide Shipping & 100% Money Back Guarantee
100% Safely Packaging
Full refund or we resend if items was broken after received!

Customer questions & answers
How does it work? Why the incense smoke flow down in the burner?
Once you have lit your cones, it will begin to smoke, the incense is heavier than air and it will fall in swirls and twists, throgh the holes and down over your backflow burner. It is incredible to watch and very relaxing.

Do I need to plug it in or is it battery operated?
No. Battery not needed.

Does the cones come with the burner?
Yes, each burner contains 10pcs free cones. But we suggest you to buy more cones as supply on our website.

What fragrances of cones you carry?
Assorted fragrances in each pack. Our Backflow Incense Fragrance Cones are made from natural and eco-friendly ayurvedic herbs.

Do you ship to outside of USA?
Yes, we ship worldwide with FREE shipping!