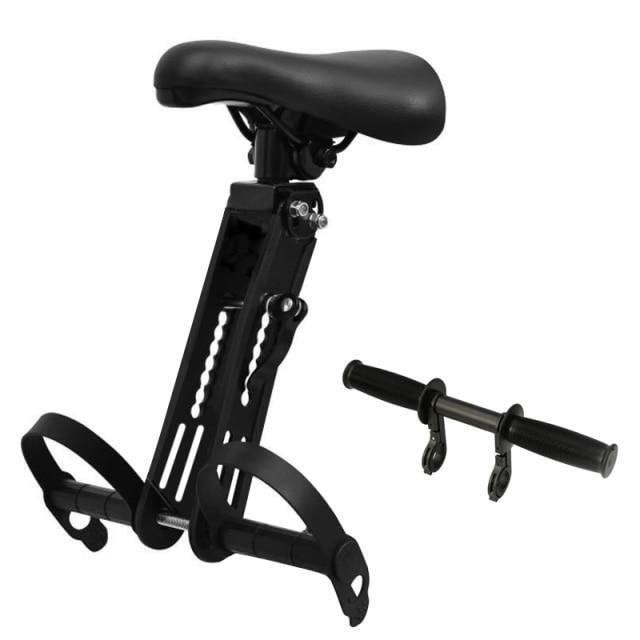 "I HAVE FINALLY FOUND THE PERFECT KID'S RIDE-ALONG BIKE SEAT. IT FITS PERFECTLY ON MY BIKE. I CAN NOW FINALLY ENJOY BIKE RIDES WITH MY SON SITTING COMFORTABLY IN THE FRONT. HE IS HAVING A GREAT TIME EVER SINCE I ADDED THIS TO MY BIKE."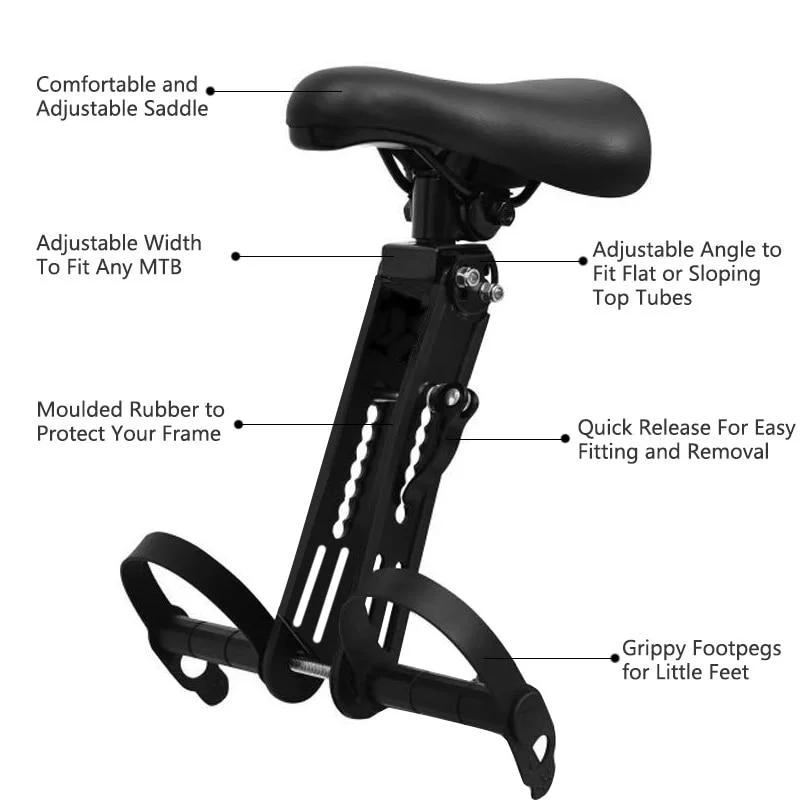 Are you a bike rider? Do you often find yourself dividing time between riding the bike and spending time with your kids? Children demand attention but so do our health and hobbies.

More quality time! Our Kids Ride Along Bike Seat ensures you get to spend quality time with your kids necessary for their social and emotional development. It fits perfectly on any mountain bike and keeps the child comfortably and safely seated right in front of you.
WHY OUR CUSTOMERS RECOMMEND IT

  
✅Enhanced Safety. – With this ride-along bike seat, your kid sits right in front of you compared to other bike seats that are attached to the back of the bike.
✅Adjustable. - The kid's seat has adjustable width and angle to fit all-bikes
✅Protection - The child seat comes with rubber protection to keep your bike's frame safe from any damages while attachment and removal.
✅ Comfort - The child seat comes with safety and comfort features. It has handlebars and footrests to hold hands and feet on for added comfort.
✅EASY TO INSTALL - The quick-release attachment makes the child's bike seat very easy to assemble and remove.

Riding a bike is supposed to be a fun activity. But have you ever found yourself in a situation where the whole family wants to go bike riding, but your 3-year-old is not old enough for the activity? Our Kids Ride Along Bike Seat solves the problem for parents by allowing them to have a safe ride with their kids. It attaches to the bike, keeping your kid safely seated in front of you.
HOW TO USE
Step 1: Unpack all the components and tools
Step 2: Screw on the two rods and the bike seat to your  bike
Step 3: Adjust the lever to increase or decrease the seat's height