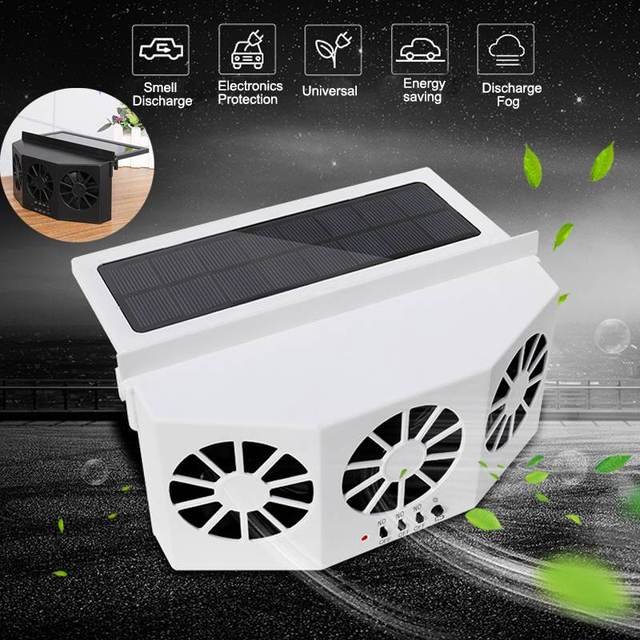 Car Fan Solar Powered Air Cooler
Description:
If you are here searching for a car fan, then you have come to the right page. When you think that the aircon of your car is not enough to cool you off, then let this air cooler help you with that. There are times that when you can't take the heat of the sun, you tend to find other options to cool yourself. During summer, when the hot temperature is too hot, you need something to keep yourself fresh. Otherwise, it will be dangerous if you cannot handle the heat. It will result in having a heatstroke. So beat the summer heat with this air cooler and let it help freshen you up. When you have this car fan to help you get rid of the hot temperature, you have nothing to worry.
Adjustable Multi-Angle
This car fan has solar panels that can absorb sunlight. You need to place it where it can absorb the sunlight. Moreover, its multi-angle is adjustable. This air cooler has three motor design and three ducts to improve the exhaust speed. You need to position the solar panels outside the window so it can collect its energy from the sun. This air cooler has a built-in high capacity rechargeable battery. It can keep the motor smooth running at a high speed.
Use It On Rainy Days
This car fan is sustainable to use even on rainy days. Use this air cooler so you can remove harmful gas from the car. Furthermore, it can help you keep the air clean inside your car. It reduces the temperature in your car as well. You will be able to choose what color you want – white or black. Get this air cooler for yourself! See how convenient it is to use, especially during summertime.
Features:
The unit is mounted on the window without a plug-in mounting line and will not damage the vehicle.
Solar panels are highly to efficient heat dissipation so that your car is no longer hot, and it can eliminate toxic gases in high-temperature cars.
The temperature shows that the temperature changes inside the car can be observed directly solar panels, multi-angle adjustable, can effectively absorb sunlight.
When the temperature inside the car is not high temperature, the air conditioning effect will be effective after each driving, so that your vehicle will cool down and save fuel.
Fresh air by heat, air vents with double conduit, dual motor design, improved exhaust Speed Efficiently solar and battery, switch control, controllable solar cells Used separately.
Six Major Product Features:
1. Cooling 2. Deodorization 3. Detoxification 4. Rain and mist removal 5. Protection of electrical appliances in the car 6. Suitable for general vehicle models
2. Detoxification: Too high temperature in the car will release a 20-fold excess of toluene (toluene toxicity can cause miscarriage in pregnant women and blood cancer in children)
3. Deodorization: Remove the smell of smoke out of the car to keep the air in the car fresh.
4. Cooling: When you first enter the car, you will no longer feel sultry.
5. Health: Air convection is beneficial to health and allows you and your family to enjoy a non-toxic and harmless riding environment.
6. Protect electrical appliances: The electrical appliances and electronic items in the car will affect their performance and service life due to high temperatures.
7. Energy saving: When the temperature inside the car is in a non-high temperature state, the air conditioner inside the car will have an effect every time after driving. With it, your car will be cool and fuel-efficient.
Specifications:
Color: White,Black
Size: 22 x 11 cm.
Voltage: 3.7 v.
Material: ABS.
Package Include:
1 x Solar Car Exhaust Heat Exhaust Fan.
1 x Gasket.