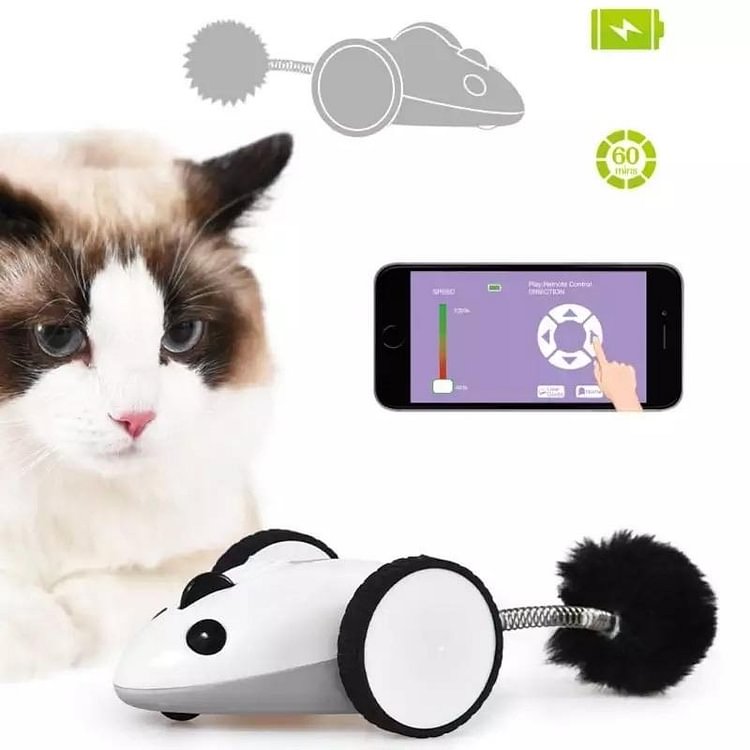 Remote Control Moving Mouse Bluetooth Phone App Controlled Cat Toy
Interactive cat toy app controlled mouse, self rotating 360 degrees, with hair ball tail design. 
Great toy for indoor cats to have fun and exercise. 

Entertaining cat toy.

It works on all types of floor, can also roll on the carpet.
Made of high-quality ABS, durable and ready to endure scratches.
Built-in rechargeable battery, with a universal USB port, the electronic mouse can roll for 6 hours after fully charged. You can use your mobile phone to control the mouse, interact with your cat and have fun.
Helps indoor cats to stay healthy: stimulate the

 cat movement, relieve stress, anxiety and boredom. 
SPECIFICATIONS:
Product: Moving Mouse Cat Toy
Type: Cat Toy Bluetooth Controlled
Material: ABS/Plastic
Color: Gray
Size: 17cm(L) x 4cm(H) x 7cm(W)/ 6.7"(L) x 1.6"(H) x 2.8"(W)
Package List: 1 x Interactive Mouse Toy
How To Use:
1. Download "Pet Hunting" from the Application or scan the QR code with your mobile phone on the packaging, and follow the steps to install the software.
2. Tap the ON/OFF switch at the bottom, and the LED light flashes (waiting for the device to connect).
3. Turn on smartphone's Bluetooth.
4. Click the "Pet Hunting" icon in the mobile interface.
5. After entering the home page, first read "Setup" and "User Guide".
6. Click play to enter the home page of "Connect The Toy", click "Match", and The LED blue light will be on (The device is connected successfully).
7. Enter the horizontal remote control interface, you can control the direction and speed of the mouse.
8. Turn off the phone interface and mouse switch, and you can finish using it.
9. Close the button ON/OFF at the bottom of the mouse to connect to the USB for charging: LED red light is ON (charging), LED red light is OFF (charging is completed)
USB charging: Red light on
Charging completed: Red light off
Charge 90 minutes, use for one hour
Warning:
1. It shall not to be operated during charging.
2. The mouse body and data cable are not waterproof and cannot be cleaned directly.
3. Please check regularly whether the mouse body and data line are damaged.
4. If any parts are damaged, please use them after repair.
5. If it cannot be repaired, the product can no longer be used.