HEALTHY SLOW FEEDER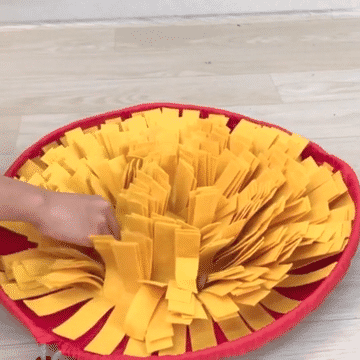 Our French Bulldog Sniffing Stress Release Mat can hide dog food, which helps control dogs' eating speed to prevent choking. Your furry friends will never get bored finding treats with this mat. Furthermore, it exercises your dog's mind & provides fun physical & mental training.
SNUFFLE TRAINING
Our French Bulldog Sniffing Stress Release Mat enables you to let your pets use their powerful sense of smell to find treats hidden in the mat, arousing their natural foraging instinct and keeping their noses working by mimicking hunting food in nature.
PREMIUM QUALITY & EASY TO CLEAN
Made from quality non-woven, soft, non-toxic and tear-resistant material, our Sniffing Stress Release Mat is a safe way to entertain your pet while also improving his/her eating habits. Also, the rope and buckle design allows for easy storage by enabling you to hang the mat on the wall or in any vertical space.
Provide your Frenchie with an awesome brain exercise and prevent him/her from suffering from separation anxiety too with this French Bulldog Sniffing Stress Release Mat. Discover how!
Great to use when you need to keep your dog entertained
Interactive French bulldog toys that will occupy your dog's attention
Made of quality felt fabric that is resistant to bite
Why we love it?
This Stress releasing snuffle mat is perfect for Frenchies that act like Velcros. By using this interactive dog toy, you'll be able to have more time to finish errands at home. Whether you want to leave the house or you want to have a rest, this Stress releasing snuffle mat for French bulldog is an ultimate solution for anxious dogs. The smell of the food will occupy his attention and attract him to find the treat. It's also made of bite-resistant material, so it's also suitable for dogs who go through a teething phase.
Specifications:
Storage: 26*26*13cm/10.23*10.23*5.11″;
Bowl: 30*30*10cm/11.81*11.81*3.93″;
Mat: 48*48*8cm/18.89*18.89*3.14″