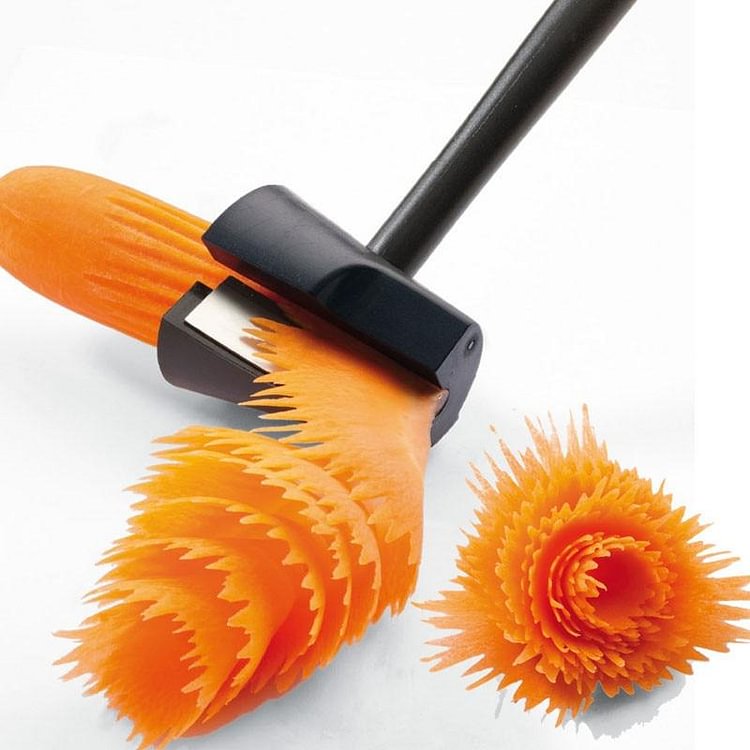 Sharpener for making flowers from vegetables and fruits. With a sharpener you can make beautiful flowers to decorate dishes. It is possible to use a cucumber, carrots, beet, oblong, pink and white radish. The service is very simple: the vegetables are let out in such a way as pencils, and that out of this came to wrap the flowers. Before releasing the vegetables, peel them slightly or cut out the longitudinal grooves. The sharpener is for the left and right hand. The diameter of the sha

Along the vegetable, cut out the grooves so that a desired polygon is formed in its cross section. While holding the vegetable in one hand, and the vegetable in the other, insert the vegetable into the receiving opening of the vegetable cutter and, tightly pressing the vegetable to it, turn it clockwise. A cutout will appear in the exit hole. Collapse the decoration in a spiral and use when decorating dishes For the cutting can be used: radish, cucumber, eggplant, carrots, beets, zucchi

Vegetable slicer for decorating dishes. It is very easy to make your table unique in a few minutes. Prince robots are like a regular pencil cutter. Made in Ukraine.