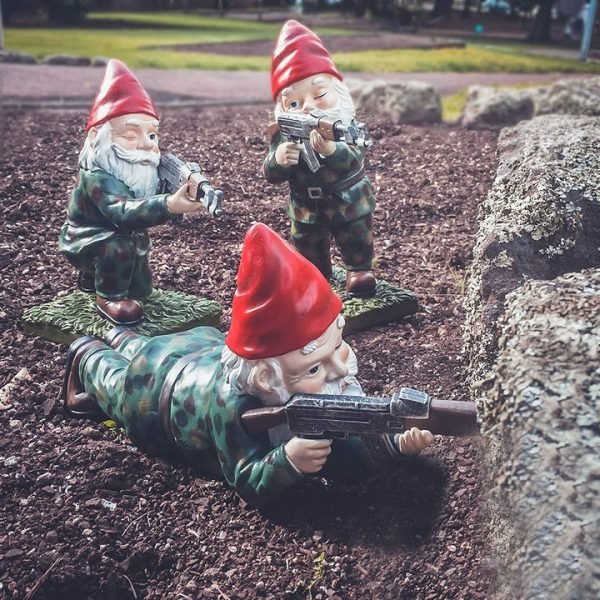 Turn your garden into an epic battleground
This statue has an amazing design. It adds a playful and cheerful spirit to your garden. 
Meet Jack ! The Garden Gnome Jack With A M16 In His Arms! I fell in love with it right away.
Jack's story is truly unique. A long while ago, he served our country for decades, going on missions, protecting our Nation and carrying out his duty with honor, until one day he decided to retire.
So, he kept his trusted companion and friend, the one and only M16, and decided to move to a nice yard or lawn, Jacks even been spotted at a bachelor pad or man cave on occasions!
Now, he is frozen in time, bound to protect the garden of anyone who chooses to have him!

Weatherproof
The Military Lawn Gnomes are handmade of heavy-duty poly-resin. These gnomes can withstand any weather at all because they are painted with outdoor-resistant paint. So, come rain, sun, or snow, your gnomes will be in good shape.
Specification:
Material: Completely hand-made;high quality materials and unique design
About Jack: The Military Garden Gnome Jack is just the beginning! We have many more gnomes with different designs that could turn your bland garden into an epic battle ground! Our army gnomes are available in three popular shooting positions, standing, kneeling or prone. You can also choose between two uniform choices: standard camouflage or traditional.
Height: 5"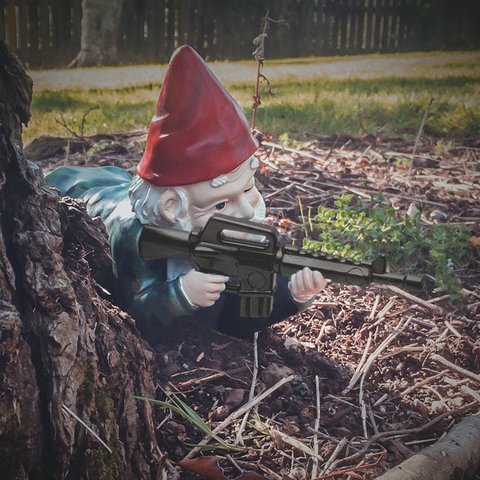 Features: 
❤️Absolutely 
gorgeous
 and 
unique
. 
❤️No matter what occasion they are placed on, they will surely
 

attract people's attention
.😍
❤️It is very important to us that
you are happy with your purchase.
❤️
An interesting design
.It adds a playful and cheerful spirit to your garden. This gnome statue stays the same for years to come. This hand-painted statue is accentuated with a multicolored finish. It has a fade-resistant finish that maintains its fresh look for a long time.
❤️
U.V resistant
and does not get damaged easily from the harsh rays of the sun. This Garden Gnome Statue needs some care during the winter season and it can be kept inside.
Our Package:
1x Standing,  1x Kneeling,  1x Creeping