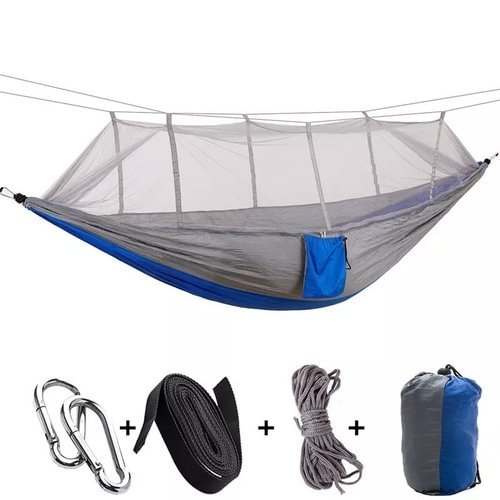 Is there anything better than relaxing in a hammock after a long day?
What about after a long hike? Or on a date? Or spending a lazy day with family and friends in the backyard? Gently swinging in a hammock, with a light breeze and dappled shade sounds about perfect.
Keep the bugs off. Nothing ruins a perfect rest in a hammock more than mosquitoes and flies buzzing and biting. Protect yourself with Summit Style's Nature Nest Hammock's built in mosquito net. The net protects you from bug bites from mosquitoes, mites, no-see-ums and more. Relax and enjoy the wild outdoors (or your backyard).
Get a good night's sleep. If you're on a camping or hiking trip, getting enough sleep can be a major priority. Sleep better at night with good ventilation from the material of the hammock. When set up, the hammock measures 260cm by 140cm (8.5' by 4.5'). This gives you lots of room to move around in your sleep without feeling restricted. And if you're sleeping with someone else, the hammock holds up to 200 kg (440 lbs). The Nature Nest Hammock will keep you comfortable and secure all night. It's made of the same material as parachutes, with triple-stitched seams for superior durability.
Pack light. On the trail, pack space is key. With the included stuff sack, the Nature Nest Hammock packs up to 26cm by 20cm (10" by 8"). And it'll only add 0.5kg (1.1 lb) of weight. It's fast to pack away too. You'll back on the trail flash. Fold everything, including netting, hammock, straps and carabiners, right into the stuff sack.
Relax faster. Quick and easy setup means once you're off the trail, you can set up the Nature Nest Hammock in minutes. Everything you need is included and can pack into the stuff sack. Attach the straps to a tree or other solid tree-like post. Clip on the carabiners, connect the mosquito net ropes, and hop in! Quick setup means more time to spend doing other things. Like relaxing.
Need a gift for someone who loves being outdoors? Summit Style's Nature Nest Hammock is a great gift and is one of our best sellers. It's perfect for adults, couples, families, campers, hikers, travelers and more.
 Specifications:
Packed size: 26cm x 20cm (10" x 8")
Set up size: 260cm x 140cm (8.5' x 4.5')
Capacity: 200kg/ 440lbs
Weight: approx. 0.5kg/ 1.1lb
 Package Includes:
1 x Travel Hammock
1 x Mosquito Net
1 x Stuff Sack
Ropes
Straps
Carabiners
What could be better after a long hike, on a date, or a lazy day with the family in the back yard than to relax in a hammock and sway with the breeze as you enjoy the beauty of nature? And now you'll never have to worry about annoying bugs buzzing around or biting you.