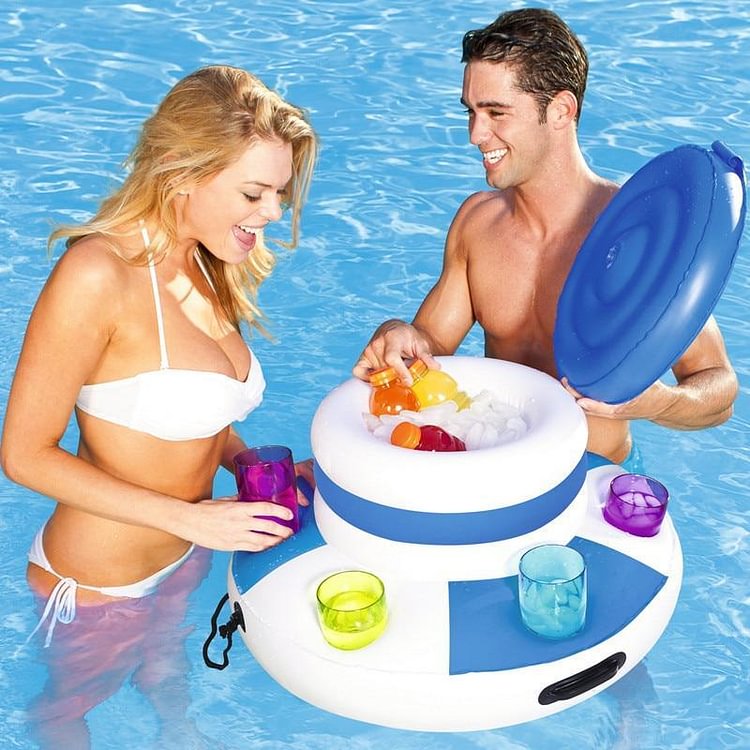 Keep your drinks cold and within reach while you're out on the water with the Floating Cooler. The ultimate accessory for any pool party, this inflating floating cooler ensures that your ice-cold drinks are never farther than a quick swim.. The Floating Cooler features six cup holders around the exterior -easily accessible without hopping out the pool. The convenient covered area on top keeps your drink cold and refreshing, even in the heat. The side handles also make it easy to transport this convenient cooler from around the pool
�7.5�Diameter; 18.5�High
6 cup holders around the side
2 heavy-duty handles for easy carrying
KEEP YOUR DRINKS COLD WHILE IN THE POOL - The Floating Inatable Cooler is perfect for your next pool party, with a special ice compartment on top and SIX convenient drink holders for your friends and family. You can't stay in the pool without your cold drink! Everyone will ask you where you got it! This inatable cooler is 27"in diameter and 18" high.
NOBODY WANTS A HOT DRINK! - Take the inatable party coolers to any party, inate it, ll it with ice and you have a oating bar that is great fun to watch. Made of high quality PVC, thick and more stable than other small drink holders, this oating cooler will be a unique and practical gift for your friends who love to swim and drink.

THE BIG HIT FOR ANY PARTY OR POOL - This oating pool drink holder keeps your drinks cold and straight without having to leave the pool and will be ideal for birthday parties, kids' summer fun, barbecues and more. The side handles make this inatable drink holder easy to carry around the pool, ensuring that your ice cold drinks are never further away than a quick dip.

KEEP YOUR DRINKS ICY COLD THIS SUMMER - Drink oaties are a must have for pool season! The premium quality ofcial licensed Ice pool drink holder oats for adults are built to last and to be used for normal recreational purposes. Drinks pictured not included. Do not drag over sharp objects or surfaces.

DO YOU NEED A FLOATING TABLE - No more crazy inventions that sank or tipped over. This pool drink holder is very sturdy and never tips over even with all of the splashing and jumping around. The oating cup holder can t around 10 cans or bottles in the cooler section and another 6 drinks in the cup holders. Just insert your favorite beer, or soda, or whatever and you are good to go!
Specicaons:
27.5" Diameter; 18.5" High
6 cup holders around the side
2 heavy-duty handles for easy carryingMaterial: PVC
Package Include:
1x Floating Inatable Cooler