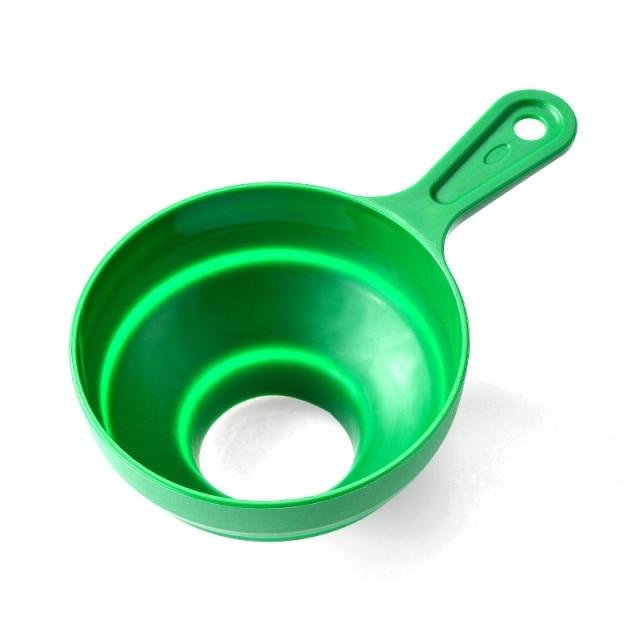 LESS MESS: With this multi-purpose large funnel, your kitchen and work areas will remain clean and tidy, keeping everyone happy! Mom will be proud of your accomplishment and pleased to see how easy it is to just toss this flexible funnel in the dishwasher. This wide mouth funnel also doubles as a regular mouth funnel by flipping it inside-out! It is a perfect fit for all of your wide mouth and regular mouth jars and plastic spice jars.

MORE FUN PROJECTS: Enjoy picture-perfect cooking projects using this mason jar funnel. Perfect fit and specially designed to ALL sizes of your mason jars, Ball jars, Kerr jars and even Bormioli Rocco and Le Parfait jars. No matter if you are funneling for canning food, pickling, spices, grains, beans, fruits and vegetables or if you are creating fun art projects with your kids, or food gifts to share with friends and family, this food grade funnel will make all your projects easy and breezy!

NO ACCIDENT WORRIES: Slips are a thing of the past with this easy to grip and hold, extra sturdy funnel. The extra thick silicone funnel body allows it to stand independently and the wide grip handles have silicone inlay, making it easy to hold without slipping from your grip. The new favorite of your canning tools!

EASY STORAGE: Fits in your drawers! Stores flat for fitting in tight places. Your new favorite kitchen funnel takes up less space than big, clumsy metal or plastic funnels making it the most versatile of kitchen funnels, fitting both size mouths. Pitch your old ball canner funnel and opt for a new, improved collapsible kitchen funnel. And it is easy to spot with its bright Blue color!

ENVIRONMENTALLY-FRIENDLY: Re-use your pickling jars and canning bottles. Your new canning funnel is great for all your wide-mouth mason jar and regular-mouth mason jar funnel projects. This collapsible funnel will quickly become your new favorite of all your funnels for kitchen, art space and even garage and garden! Works perfectly as a food funnel, ice funnel, powder funnel, grain funnel, spice funnel, or funnel for water bottles, cold coffee brewing system or even your smoothie jar!