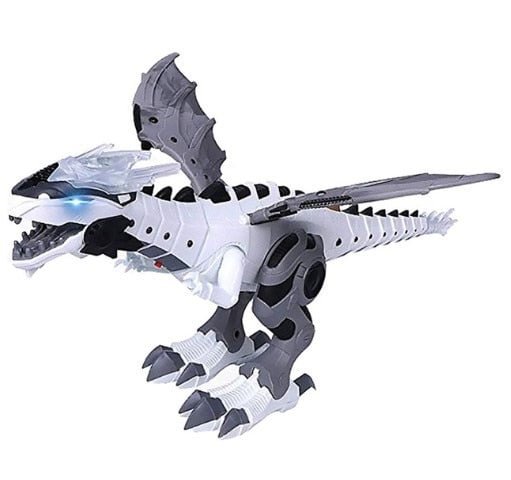 A Dragon toy that walks, roars, swings its wings, shakes its tail, and sprays water from the mouth that looks like real fire!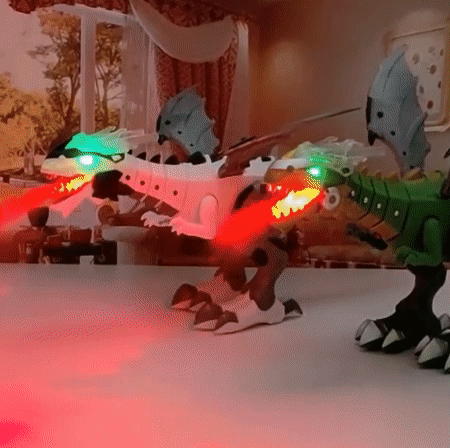 If there's only one thing that children love, it's dinosaurs! Many kids build up an impressive collection of toys. And when it comes to dinosaurs, there is a whole world to discover. Great Gift for Little One!
Let your child experience the world of dinosaurs with the all-new Walking Dinosaur Toy. A dinosaur toy that walks, roars, swings its wings, wags its tail, and sprays water from the mouth that just looks like a real fire. How cool is that?! But...is it a dragon or a dinosaur? It's a hybrid of both.
We simply like to call it a dinosaur, but you can refer to it as a dragon, too. No one will judge you for it! This awesome looking dinosaur toy is fun, safe for kids and made from high quality sturdy, non-toxic recyclable ABS plastic. The perfect gift for children who love dinosaurs to the moon and back.
Features
Fantastic Design with Mist Spray Function: The dinosaur can spray mist with red light every several seconds, just like fire erupted from mouth. There is a built-in water case in head, and you just need to use provided plastic bottle to fill water into the hole. Please note that the water each filling can only support several times mist spray caused by water volume limit.
High Quality Material: The overall body is made of premium eco-friendly ABS material, and the horns and tail are clear soft silicone material, which will not hurt kids. All parts are tested to strictest safety and quality standard, environmental, non-toxic due to our emphasis on providing high quality and safe toys for children.
Mechanical Outlook Design with vivid movement: The overall body is assembled by many different sizes small parts, just like a robot. Its neck and tail can shake, wings can swing, mouth can move, and its strong feet are with wheels, walk with simulative dinosaur roars.
Specifications:
Material: Plastic

Size: 47 x 27 x 17.5 cm / 18.1" x 20.86" (L x W)

Power: 3 x AA batteries (not included)

Age Range: 6 +
Package Include:
1 x Walking Dinosaur-Dragon Hybrid Toy