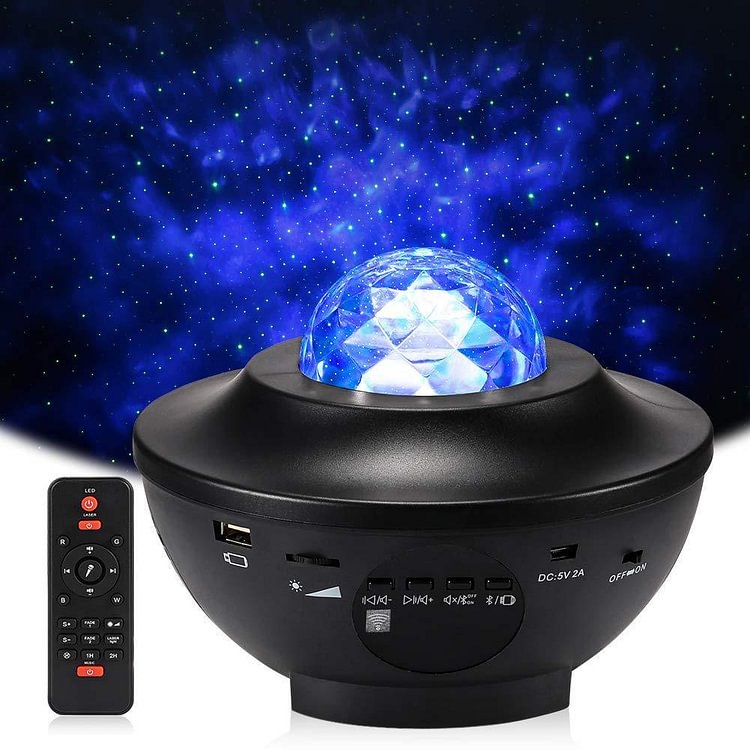 Instantly Change The Atmosphere of Any Room!
Transform any rooms, add a unique touch to your bedroom, light yoga sessions, and more with our laser star projector!
Simply connect your phone via Bluetooth, or plug your USB flash drive into the port to combine our constellation creations with your favorite tunes. Set the scene and take your light show to the next level!
Sit back, relax, and feel the stress of the day melt away as you immerse yourself in the starry scene that surrounds you. Change things up in a heartbeat with your remote control (included). Adjust volume, mode, and more - and set timers for automated intergalactic bliss.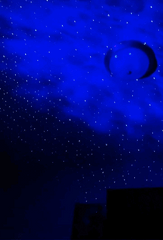 Various Lighting modes
4 colored lights(blue, red, green, white) can project solid or multicolored ocean wave lighting effects and laser/star light can project a field of drifting stars. This night light projector can up to 21 lighting modes if the ocean wave light or together with laser star, showing you a watery ocean atmosphere and glowing moving stars light to you!
Built-in Speaker
You can connect your phone Bluetooth or plug USB flash dish in port to play your favorite song while lights show. Enjoy the beauty of starry sky along with the pleasures of relaxation, cozy atmosphere songs.
Rotation & Music Activated
With the dance mode on, the light will actively respond to music rhythm which would make your parties more fantastic and unique. The projector light could rotate, either you want it rotate dynamic or become static, just to change the speed by remote. With dance/sound activated mode on, the light will actively respond to music rhythm.

Auto Off Timer Options
Built-in 1H, 2H auto off timer, freely to set shut off automatically after the present time by remote controller. And timer can be cancelled by long pressing about 3 seconds.
(Note:The night light can not stay on all night and it will automaticly shut down after 4 hours.)
Adjustable Brightness
This night light can be freely adjusted with your preferences for you and your baby to make the wonderful sleep surrounding.
Rotating Lighting Display
LED Star Projector creates thousands of stunning stars, and colorful cloud is slowly moving glowing and the stars slowly rotates over time,bringing you into planet and universe atmosphere world.
Easy to Use with Remote
This latest night light projector with remote controller,can freely turn on/off the lamp, change lighting mode, dance mode, adjust the volume, or to set automatically turn off timer.
What you'll get?
1× Starry Light Projector

1× Remote Controller

1× USB Cable

1× User Manual
Customer Questions & Answers
Where do you plug it in?
This star projector can be adapted to any power device with USB port.
How to play music?
You can connect via Bluetooth and play it on your phone, or you can plug in a USB flash drive.
Will it rotate?
Yes. Clouds and stars move on the ceiling and walls - the equipment stays still.
What patterns can it project?
10 Color Combinations and 21 Fantastic Lighting Modes- The Music Star projector with 4 colored lights(Blue/White/Green/Red) make up 10 multicolor combinations, while the starlight can keep on or sparkling all the time. With ocean wave, light and stars work together can reach up to 21 projecting modes, feel like swimming into of the sea, or strolling through the stars, such dreamy and wonderful.
Can you turn off the stars and only nebula?
Yes, you can.
Can you pause this light on one color? For instance, will it stay on purple without changing?
Yes, it does.