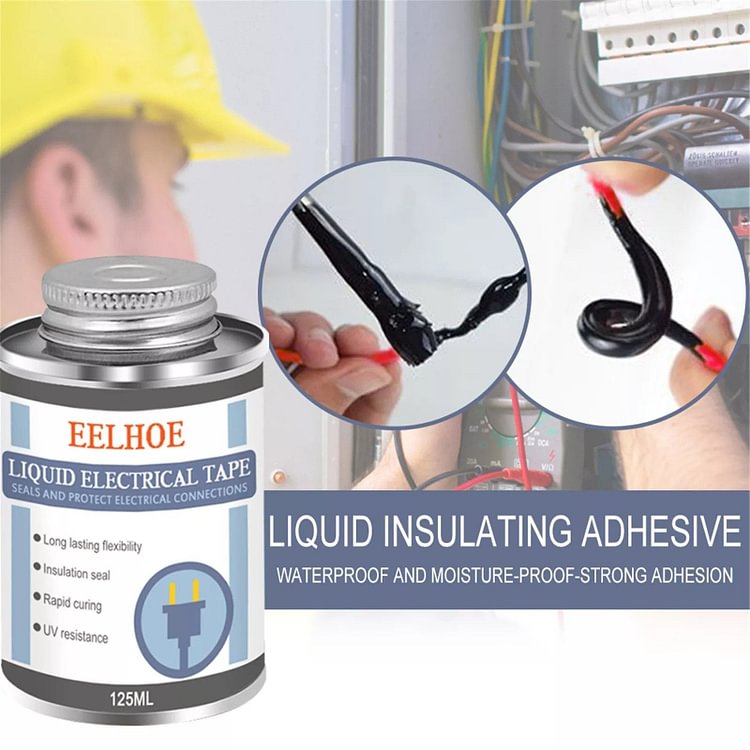 Perfect for quick access and portability!
Liquid Electrical Tape can be used in manufacturing to insulate, protect, and colour code connections. It remains flexible even under extreme conditions and won't crack, harden, or peel.
Liquid Electrical Tape electrically insulates to over 1380v/ml. It is also excellent for use in a variety of applications including the manufacturing of electrical connections and components for boats, trailers, cars and trucks, timers, outdoor wiring, instruments, computers, circuit boards, switches, radio antennas, and many more!
Main Features:
【INSULATION AND SEALING】

The liquid tape has stronger sealing performance, which keeps the wires in an insulated state, prevents leakage and protects personal safety.

【DURABLE AND HIGH TOUGHNESS】In the case of the same capacity, the insulating glue in liquid form is more durable. The liquid form is easy to stretch and has better shareability.
【EASY TO USE】

There is no need to cut or paste, just apply liquid glue to the place that needs to be repaired, and then leave it for four hours to complete the repair.

【WIDE RANGE OF USE】

Such a small bottle of glue can be used for various tasks such as wire bonding, thread fixing, circuit boards, semiconductor materials, car wiring, and circuit decoration.

【NO DETERIORATION AND NO OXIDATION】

The insulating glue covering the surface of the object is not easy to oxidize and deteriorate, so there will be no need to cover the glue multiple times.

【APPLICABLE THROUGHOUT THE YEAR】

The insulating glue is resistant to high and low temperatures, and the working temperature is between -30℃ and 300℃, which can adapt to most working environments.
Usage Scenarios:
Used in the bonding of electronic components, electrical equipment, sealing semiconductor materials, electric heaters, electronic meters, etc.
Using Methods:
Specifications:
Materials: Glue
Glue color: Black, white
Size: 13 × 8 × 9 cm / 5.1 × 3.1 × 3.5 inches
Capacity: 125 ML
Shelf life: Unopened for 2 years
Package Contents: Liquid Insulation Tape