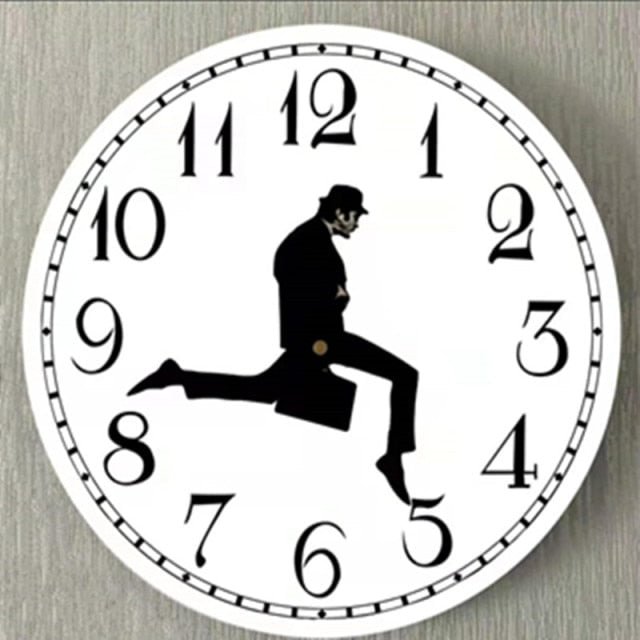 Ministry Of Silly Walk Wall Clock


Good times! Rethink the traditional timepiece as functional wall decor. You'll love how our Artists are converting some of their coolest designs specifically into Wall Clocks.
Descriptions:
【Reliable Material】these ministry of silly walks clocks are made of plastic, which is sturdy and reliable, unlike other clocks that use cardboard as background, easily damaged in moisture and wet seasons, it can serve you for a long time.
【Wide Application】these walking silent mute clocks are delicate and personalized to decorate your space and bring a different color to your space, which is suitable for living room, bedroom, kitchen, bathroom, classroom, guest room, office, dining room, coffee room, library or any color wall.
【Non-ticking Design】the circular decorated vintage clock features a non-ticking design that provides a quiet environment whether you're sleeping during the day or at night, and the silent clock doesn't make unwanted sounds.
【Easy to Read】the large black numbers set off the white face, the black numbers form an obvious comparison with the white background, which makes it easy to see the time from any angle, it is a modern wall clock for decorating all your places.
Specifications:
Size:25*25*4cm(10 inch)
Color: White, Black
Weight: 350g
Package Included: Clock*1
Silent Clock: Precise sweep seconds movement guarantees accurate time and absolutely quiet environment. Being non-ticking, no noise, it won't bother you when you reading, working, thinking, conversing or sleeping.