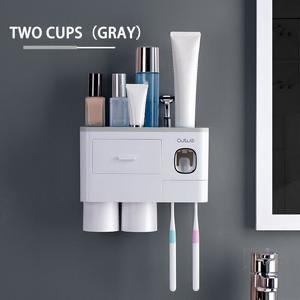 Tired of the mess in your bathroom? Looking for an alternative to your old toothbrush stand? Upgrade to the top-rated OSWE™ Toothpaste Dispenser and you'll never have to worry about these problems again. This must-have nordic inspired bathroom gadget is guaranteed to make your daily bathroom routine quick, efficient, easy, and stylish!
AUTOMATIC TOOTHPASTE DISPENSER: Features a carefully designed vacuum pump that functions to dispense the perfect amount of toothpaste with a single push. Prevents any possibility of wastage, leaving no drop of toothpaste unused. 
LARGE STORAGE CAPACITY: The OSWE™ is equipped to accommodate up to 4 heat-resistant mouth washing cups (350 ml), and up to 8 toothbrushes, the perfect amount for families of all sizes. Includes mini-drawer compartments which allow for further storage of your cosmetics, comb, perfume, razor, and more!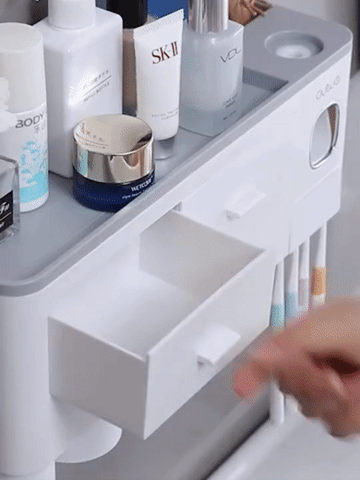 UPSIDE-DOWN CUP DESIGN: Each of the upside-down cups are reinforced with a strong magnetic feature that securely attaches the cup to it's holder. This inverted design allows for all water to drain quickly and prevents bacterial reproduction by keeping the cups dry, clean and hygienic.
ANTI-DUST: The toothbrush opening features an effective dust-cover that is designed to prevent any accumulation of dust or dirt. In addition to this, each opening includes a hole for ventilation, ensuring that that each toothbrush remains dry.
EASY DAMAGE-FREE INSTALLATION: Easily mounted onto the wall with strong wall-mount stickers, protecting the wall's surface leaving absolutely no trace. Can additionally bare up to an impressive 6KG of weight.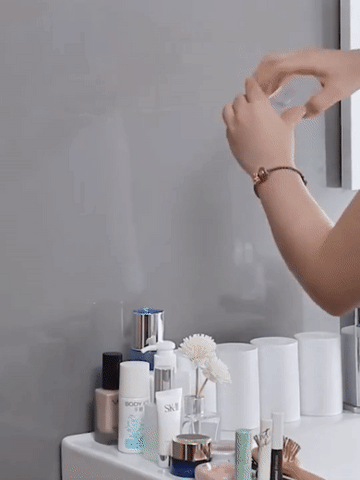 HIGH-QUALITY & ECO-FRIENDLY: The OSWE™ Toothpaste Dispenser is made of entirely non-toxic, odourless ABS materials.