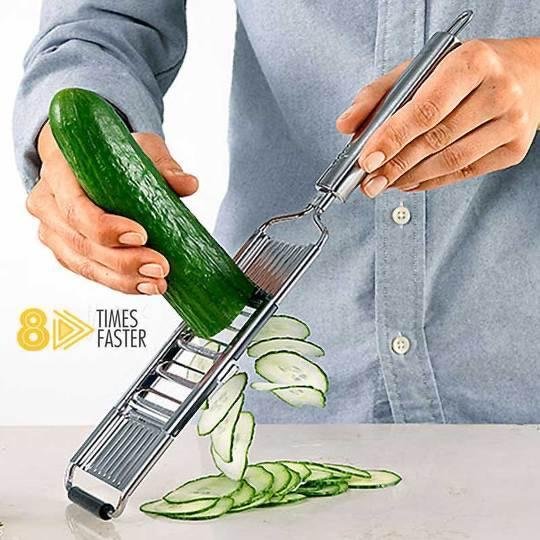 Why Do You Waste Your Time Cutting Vegetables?
If you were tired of slicing by hand, this slicer is one of the best tools in your kitchen.
Our grater will make your work faster and smoother.
🧑‍🍳This tool is a savior for busy homemakers or a"work from home"parent who needs to prepare a homecooked meal every day 3 times or more a day.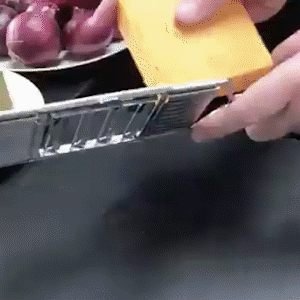 Multi-Purpose Vegetable Slicer
The Slicer is patented, German designed and manufactured. It has 8 super sharp, precise, stainless steel blades, which makes it the quickest and most precise slicer in the world. Designed perfectly to make tasks easier and quicker in your kitchen.
HOW TO USE YOUR SLICER?
There are 3 interchangeable blades with the Slicer.
All the blades are changeable easily by hand.

If you are wanting to slice something small then put your vegetable/fruit on the safety guard, if not then hold it with your fingers far away from the blades.

Run your food over the blades and let the slicer do the hard work. You will find evenly sliced food every time!
This cutter has three interchangeable blades that enable you to slice, shred, and grate your veggies without any hassle.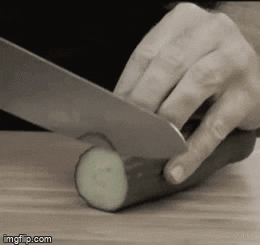 This product is created to make working in the kitchen smooth and fun. Made from food-grade steel, this slicer is polished to perfection so that you never have to worry about breakage and rust. The blades are easy to remove, so you can wash them easily. The grater can be washed by hand but is also dishwasher safe. Get your now!