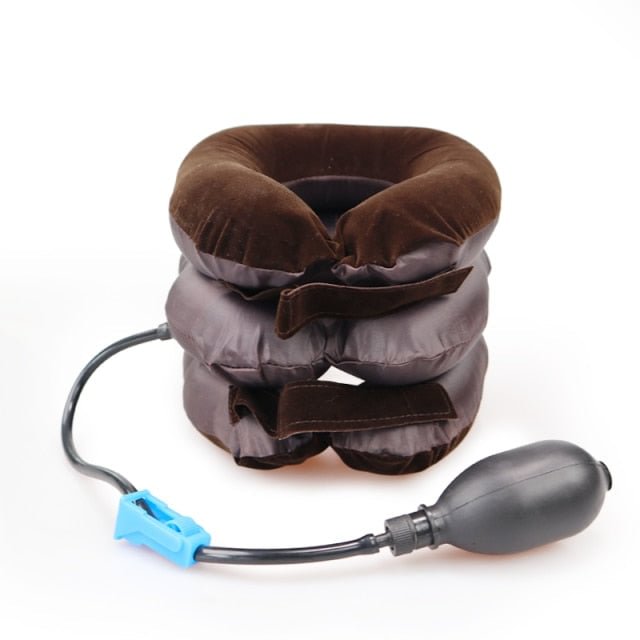 Neck Support Soft Neck Cervical Collar Pillow Inflatable Air Neck
Our neck pillows can go with you everywhere! Use in the car, at work, or at home. Pillows completely collapse for easy storage or portability. Keep your Inflatable Neck Stretcher Device everywhere you go!
Its effectiveness comes from the way it stretches and relaxes neck and shoulder muscles for increased mobility.
FEATURES:
FAST NECK PAIN RELIEF: Provides fast neck pain relief, and a faster recovery from neck injuries, without the need for medications or surgery. Relieves neck pain for anyone suffering from neck arthritis, herniated/bulging disc in the neck, neck strains and cervical muscle spasms.

INCREASES BLOOD CIRCULATION: The cervical traction device helps by increasing blood circulation to the structures of the cervical spine, helping to oxygenate muscles, nerves, tendons, thus decreasing pain and promoting relaxation.

CORRECTS NECK POSTURE: Keeps your neck in a perfect posture allowing it to heal and prevents further neck injury and pain.

COMFORTABLE & EASY TO USE: Soft and comfortable fabric and inflates easily. No longer go to a physical therapist for neck traction; you can do neck traction at home just as effectively and safely.

FULLY ADJUSTABLE: The cervical traction device is fully adjustable to almost any size and can be used for men and women. For best results use 2-3 times daily for 30 minutes session each.
Keep your money in the bank for the things that truly matter since you do not have to pay expensive medical bills anymore with this inflatable neck traction device in your arsenal.
If you or someone you care about suffers from frequent neck pain, nerve pain and blood circulation issues, this inflatable neck traction device is the purchase you need to make today.