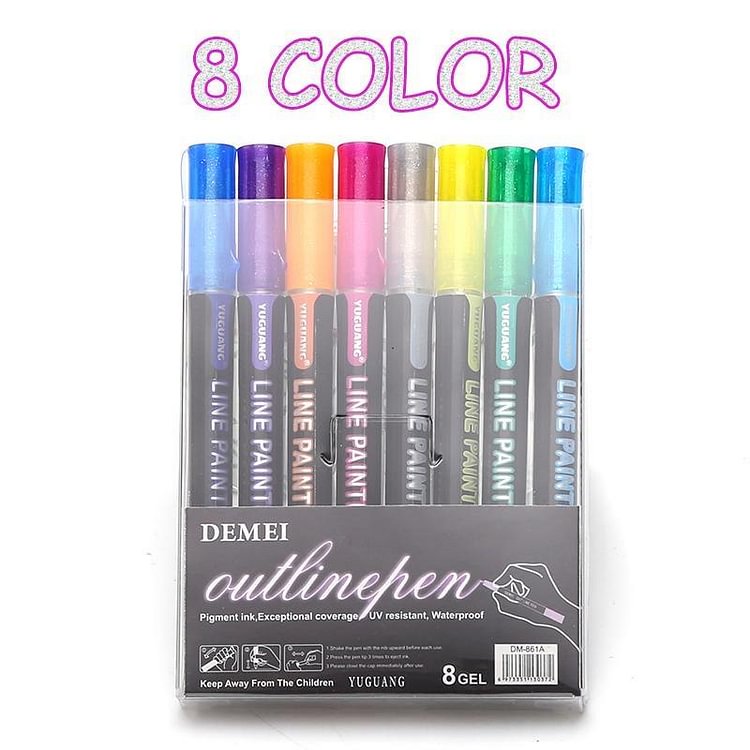 These Pens Are Unique And Super Special!
At home? Why not treat yourself to a creative and fun crafts project! These magic outline markers make drawing and doodling so satisfying and fun!

Fun for the whole family! Our magic outline markers are loved by both parents and kids. Draw and doodle for hours on end with these magically appearing multi-colored outline markers.
FEATURES:
FUN FOR EVERYONE: Some good old fashioned fun or a creative project can go a long way! Especially when trying to keep kids occupied. Well, our magic outline markers can do just that. Your imagination is the limit! Craft and create amazing DIY posters and cards for family and friends, or simply just doodle and draw to destress after a long day at work. Our magic outline markers are fun for the entire family.
SUPER SIMPLE TO USE: For the best long-lasting results, store the makers horizontally and after each use make sure to re-cap the makers immediately. Simply shake the maker well to ensure that the ink is fully mixed. Then take the cap off and press the tip of the maker onto your surface. Keep repeating this in a pumping action a few times to activate the ink until it starts to flow and circulate. As the image below demonstrates.
NONTOXIC AND CHILD FRIENDLY.
THE MARKERS CAN BE USED ON ALL SURFACES.
SPECIFICATIONS:
Color: 8 / 12 Colors
Ink: Opaque Xylene-Free Ink
PACKAGE INCLUDES: