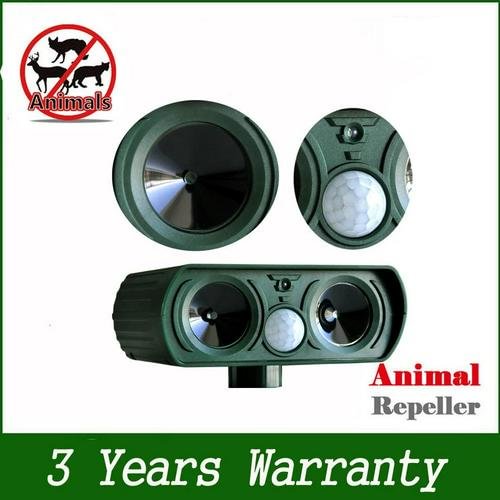 Say Goodbye to Unwanted Deer, Cat, Dog, Snake, Bat, Squirrels, Mouse ect 
by setting up the ultrasonic pest repeller outside your home.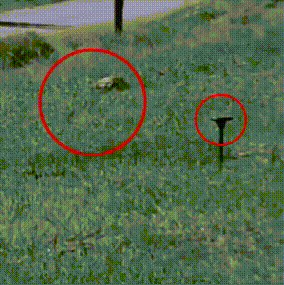 Our animal repellent emits a powerful ultrasonic sound that can get rid of animals within 48 hours, and keeping your home pest-free 24 hours a day.
Equipped with an ultra-sensitive sensor, the rodent repellent has a detection angle of 110 degrees that provides you with maximum coverage. This sensor prompts the rat repellent to release sounds and flash lights once it detects even the slightest animal movement.
Features:
Effective

: Intense ultrasonic signal to scare the dogs, cats, wild boars, mouse, birds and more other animals away from your zone, house, garden, yard.

Portable & Easy to Use

: It can be mounted in ground with the provided spike, or hang on wall through the back slot (With direct sunshine recommended)

Chemical Free

: Protect your home from unwanted animals without the use of dangerous and messy chemicals, pesticides, sprays, or traps that can harm you, and your family. No Dead Animals!

Waterproof IPX4

: Can be left out in any condition. The angle of detection is 110 degrees, so it is important to consider the most suitable rotation for maximum coverage.
Specifications:
Coverage Area: 30 feet to 2425 square feet
Ultrasonic Frequency: 25-61KHZ
Power Supply: 3 AA Ni-MH Rechargeable Batteries
Power Consumption: standby 10 mAh, working 15 mAh
Package Includes:
1 x Solar Animal Repelle