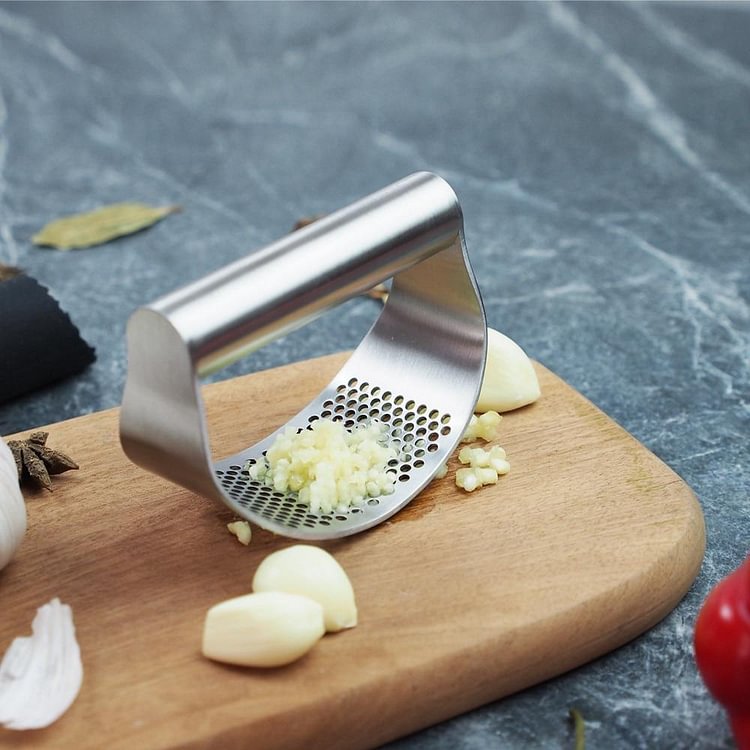 The Last Garlic Press You Will Ever Need.
Let's face it, nobody likes chopping garlic...it's impossible to get even, it sticks to everything, and takes a long time. Then the garlic press was invented, and things were good, except not really.
Earlier garlic presses were clumsy, took too long to use, and were impossible to clean, making them less than a worthy alternative, until now.
Introducing our Stainless Steel Garlic Press, the easiest, fastest, and cleanest way to get minced garlic!
Description:
New Ergonomic Design: Our garlic press is designed with an ergonomic handle that is easier on your wrists and hands, giving you maximum pressure output with minimal effort. It's so easy that even people with hand/wrist injuries or arthritis can get fresh chopped garlic with zero pain.
Easy Mincing: With a slight back and forth rocking motion similar to kneading dough, you can easily crush or mince garlic in a fraction of the time.
Premium Materials: Our garlic press is made with 100% premium stainless steel and high-quality silicone (on the black handle version,) making it extremely durable, corrosion-resistant, and anti-rust.
Carefree Cleaning: Rinse under water and run it through the dishwasher. Being 100% dishwasher safe, caring for your garlic press couldn't be simpler.