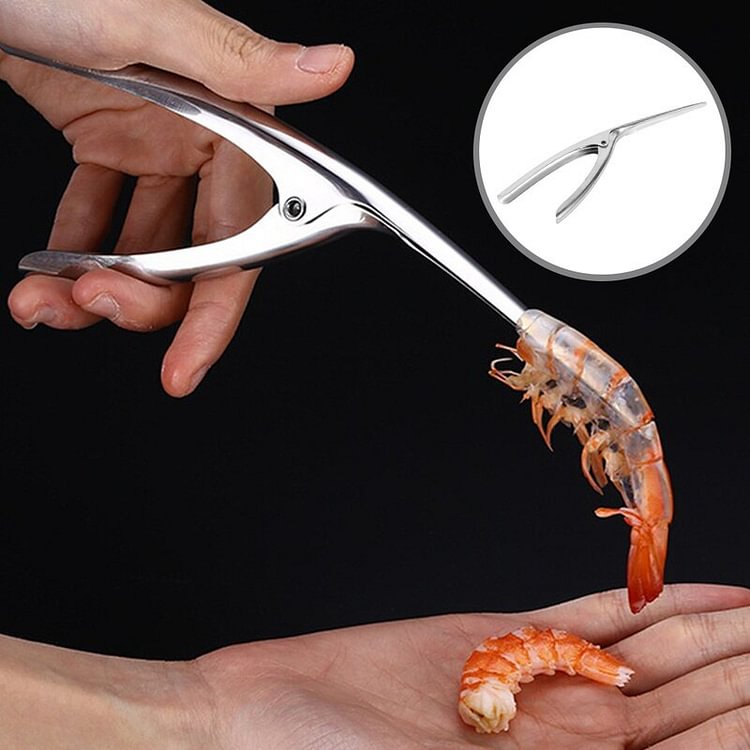 With the Shrimp Peeler, you can now devein shrimp with an ease you have never imagined before. The Shrimp Peeler takes only seconds to peel the shrimps!
Designed with functionality and comfort in mind, the Shrimp Peeler is a must-have kitchen gadget for all households. It is easy to grip and has a comfortable hold. The Shrimp Peeler is the fastest way to peel shrimps. Simple hold shrimp with the tail pointing away from you. Insert the closed tip of the Shrimp Peeler into the top of the shell until it comes out beyond the tail. And then press handles together. It doesn't get any easier than that!
Features:
Method: To peel prawns/shrimps, firstly remove the head. Then hold the handle of the peeler and insert the sharp tip of the tool from the body slowly to the tail of the shrimps/prawns. Finally press the handle of the tool to easily separate the shell from shrimps/prawns. *The tool is ideal for cooked shrimps/prawns.

Shrimp peeler ergonomic handle for comfort.

Compact enough to fit in a drawer with other kitchen gadgets or flatware; Top - rack dishwasher safe for easy cleanup.

The tool is made of stainless steel. It is very durable and not easy to get rusty. It is also safe for use.
Professional Shrimp Stainless Steel Peeler is excellent and safe for removing seafood meat from the shell. Let this peeler does all the dirty work, leaving you less clean-up and more free time!