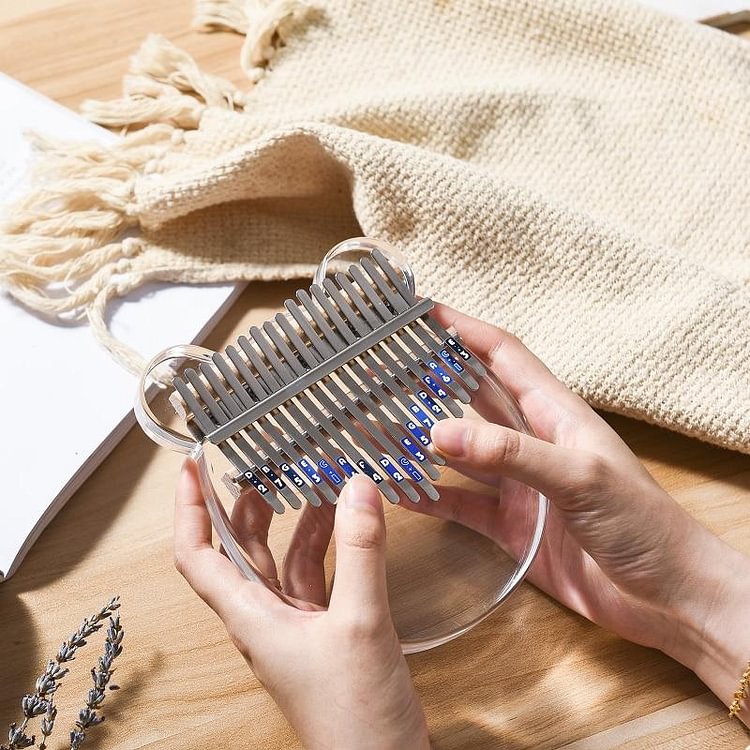 High quality: The 17-key kalimba is made of acrylic material with a metal vibrator, maple nut and saddle. Acrylic is not only beautiful, but also lightweight and easy to clean. It can also transmit vibration faster and more thoroughly, resulting in better resonance and pleasant sound. This is a professional seventeen-key Kalimba instrument.

STANDARD C TUNE:Each tine has an engraved symbol. The 17 metal teeth adopt the international standard C adjustment design, and the corresponding metal teeth are D6-B5-G5-E5-C5-A4-F4-D4-C4 (middle)-E4- G4-B4-D5 -F5-A5-C6 -E6 (from left to right). You can flick the metal teeth to play the song easily. You can easily learn in one minute.

Entry-level instrument:If you don't have music foundation or operating experience, but want to try an instrument, Kalimba will be your ideal choice. Hold it in your hand and pull the tines with your thumb to produce a clear and pleasant sound. This finger piano has carved symbols on each tine, which is more intuitive and easier to learn for students and novices. you can also learn easily according to the music book we provide.

EVA tote bag: equipped with dustproof, waterproof, shockproof, compact and portable zipper case, which can protect your kalimba from scratches, moisture and oxidation. This Kalimba set is suitable for travel and entertainment, gatherings of friends and family, you can also give it as a gift to your children and parents during the holiday.